How to safely enjoy your thanksgiving break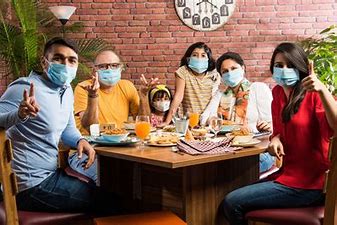 With Thanksgiving right around the corner, many people will be wondering how to stay safe while enjoying the holiday. When it comes to friends and family, people can easily forget we are still in a pandemic and throw caution to the wind. While that may not be wise, you also can't eat through a mask. So, how careful should you be?
According to the CDC, masks are a must for indoor activities, especially if you have poor ventilation or elderly people nearby. Masks do not do much to keep you safe, they are for the safety of those around you. Elderly relatives could benefit a lot from you wearing a mask. With a small group of vaccinated people, it is OK to take your masks off if you trust those people and are comfortable doing so.
When it comes to food, we should also be careful. People forget that viruses can spread through more than just a cough or sneeze. Food, tables, and utensils can all carry pathogens. To stay safe, make sure the host washes all their silverware and surfaces before dinner is served and wash your hands before and after eating. 
Another important thing to think about that is often overlooked is travel safety. Many people will be traveling for Thanksgiving. Whether they are going to see relatives or friends, staying safe still applies on the road. So, what can you do?
First off, minimize contact with public surfaces. Touch door handles with a sleeve or elbow if possible and wear a mask when in public areas like rest stops or gas stations. Although gas pumps are outside, thousands of people touch them and leave behind germs. Carrying a bottle of hand sanitizer is a good idea and a quick way to stay safe if you have to touch public surfaces. If you're traveling with young children, the elderly, or immunocompromised people, be extra careful. You might not be in immediate danger, but they are.
Lastly, remember to be selective with who you interact with. If possible, stick to a small group of vaccinated people for indoor gatherings if you want to go without masks. If you don't have anyone with significant health risks, it is safe to have larger groups outside. Stay reasonably spread out when eating. They may seem overbearing, but these safety precautions take a matter of minutes and are but a minor inconvenience that could save lives. Remember to mask up and stay safe. We're all in this together. Happy Thanksgiving!