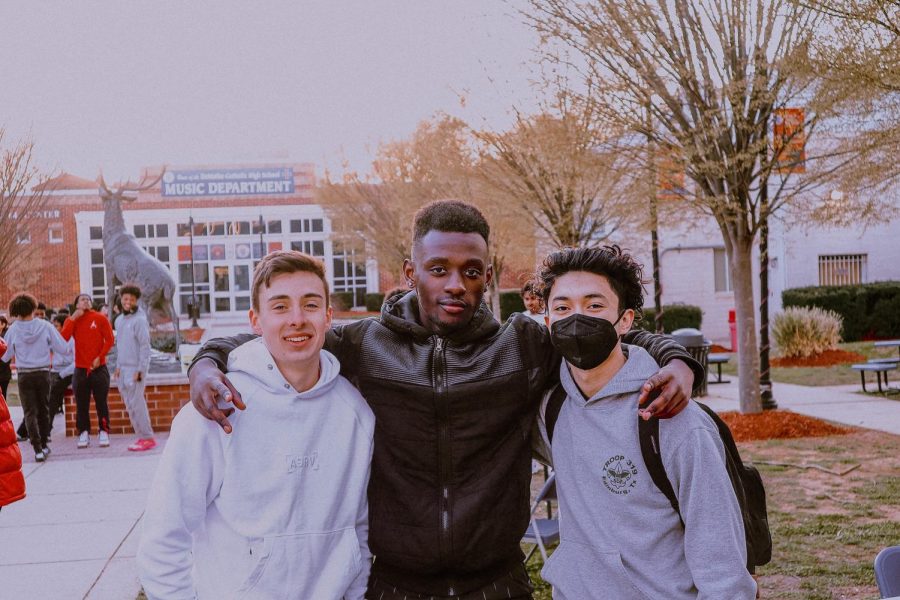 On Friday, April 1, 2022, the DeMatha SGA held an April Fools Party at DeMatha which included DeMatha and Seton students. There was plenty of food and games that a lot of people participated in, including a moon bounce!
DeMatha SGA President Therman Hawkins III had a lot of positive emotions about the party. "I think the party was fun for everyone! We had a huge obstacle course, good music, food, and some really good tasting cotton candy!" Therman thought the most important, and favorite part of the party was the bonding students made. "I'm glad that students from both schools were able to come to an event and bond with one another. Seeing DeMatha and Seton students talk and laugh together truly warmed my heart." He also points out the "brotherly/sisterly" unity that was happening at the party.
Therman accepts that planning for events like this is never easy. "They take time and effort to make sure everything goes according to plan, from flyers and advertising to ordering activities for the event," he says. Therman takes pride in what he does to make these events happen, even if it takes a lot of time out of his day, as he mentioned. "I try to make the satisfaction of the DeMatha student body my number one priority."
Therman says that there will be a few end-of-the-year events, but it is a bittersweet time for him. "Sadly, my time as president is nearing an end. Some of the end-of-the-year events that I will organize will help the next SGA president plan. Stay tuned!"
Senior Amani Aguko thought "the party was really fun. It was yet another chance for DeMatha and Seton students to come together and enjoy a Friday evening of straight entertainment with friends and peers." Amani acknowledges Therman's successful campaign he has held so far this school year. "Planning these events has become a routine for Therman, and he gets better with each event."
His favorite part for the party was meeting new people. "I met quite a bit of people and had a chance to reconnect with familiar faces. I'm grateful the pandemic hasn't restricted us too much from having fun." Amani says that he would like to see more events like this between DeMatha and Seton because it "brings the schools closer to each other."
Senior Vice President Colin Roman had similar emotions about the party. "I thought the party was cool, everyone had fun. It was a great opportunity for students of both schools to connect and enjoy others' company in a fun setting." Colin enjoyed the food, and said his favorite part was the cotton candy machine, "although I really appreciated Ms. Scott making everyone popcorn."
Colin also talked about the planning of this event. "Planning the event started about a month in advance. We had to figure out food options, where and when the party was going to take place, not to mention setting up itself was definitely a little bit of work." Colin admits that it did take a lot of work to put this event together, but in the end he thought the party "turned out well."
The April Fools party had a great turnout. The bonding between both schools and the brotherly/sisterly unity shows how easy it is to come together. Students and faculty from both DeMatha and Elizabeth Seton very much enjoyed the event, and look forward to more events like this in the near future.