Tiger Returns to Prominence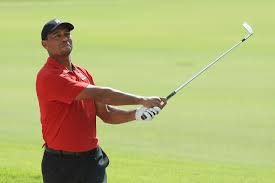 After four years of injury, struggle, and personal redemption, Tiger Woods has finally prevailed. On Sunday, September 24, Tiger Woods captured the Tour Championship, marking his first win in over five years. This is truly an impressive achievement, being 42 years old and undergoing a spinal fusion surgery less than a year and a half ago.
According to anonymous pros on tour, he was reported saying at the Masters dinner that he may never even play another round of golf. He took his recovery in very slow steps, starting  out with just trying to walk 18 holes, let alone play them. He eventually began to chip and putt again, slowly working his way up to full iron shots and full drives, until he could freely swing a club.
He started out the season with a few high finishes and a few missed cuts, but he eventually began to hit his stride, finishing T-2 at the Valspar Championship, T-6 at The Open, and 2nd place at the PGA championship.
The close calls at those majors created a huge buzz around Tiger and the fact that he may once win again. However, there were doubts. He was 42 years old and hadn't won an event in five years or a major in ten years. In addition, there was a slew of very good young players on the tour like Justin Thomas, Rory McIlroy, Bryson DeChambeau, Jordan Spieth and Brooks Koepka.
In the end, Tiger prevailed and won the last event of the year, breaking his five year drought and finding his way back into the winners circle. Afterward, when he was interviewed, he thanked everybody along the way who helped him through the long process of making his way back. It was obvious how much this win meant to him as he choked up during his victory speech, something that's uncharacteristic for Tiger Woods.