New Faculty Profile: Spanish teacher Ms. Galan enjoys her DeMatha experience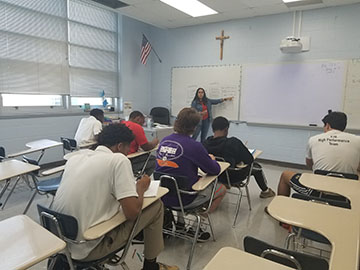 After graduating from Denison University, new Spanish teacher Patricia Galan craved to go back to a Catholic school to teach. When she was at Don Bosco Cristo Rey High School, she presented a paper on 1984 here at DeMatha in the Convocation Center. She immediately fell in love with DeMatha's environment and hoped to teach here one day. When asked about her first impressions on the school, she said, "It felt very different. I thought positively of the school and that it was different than other schools."
Since Ms. Goodwin and Ms. Velasquez both taught at Don Bosco, Patricia had some connections at DeMatha. She reached out to them if they knew anything about a possible teaching position, and luckily there was a spot for her.
She said, "They felt comfortable with me and invited me to do the application and interview process. They spoke highly of DeMatha and thought it would be a good match for me."
Ms. Galan was extremely excited and prepared for her skype interview. Ms. Goodwin, Mr. Davis, and Dr. McMahon were the interviewers. "It was an exciting time, but I felt comfortable with them. I was so prepared for the interview." However, Dr. McMahon caught her off guard when he asked her who her favorite writer is. Other than that question, everything went well. She hoped and prayed for the chance to teach at DeMatha, and she waited to hear back if she was hired. Spoiler Alert: She got the job! She said, "I was super overjoyed and happy! So far, the adjustment has been a little difficult but the support helps."
Her favorite subject in high school was mathematics, and she majored in computer science in college. After listening to a friend's recommendation, everything changed when she decided to take a Spanish course. She realized how beautiful and vivid the language truly is, and she leaned more grammar than she had previously known even as a native Spanish speaker. "There are so many words to express so many feelings.  The vocabulary is more vivid and the culture is beautiful. Just getting people curious makes me happy. I hope my students want to visit a Spanish-speaking country– I especially want them to visit my country, Guatemala!" Even though it was always on the back of her mind, this moment prompted her to pursue her true calling of teaching Spanish.
Now as an official DeMatha teacher, she appreciates learning from other teachers at the school. "Classes are like beautiful dreams. I am eager to learn more and receive advice from my colleagues. It's meaningful. That's definitely the best part about DeMatha. I don't think I can get that help anywhere else."
When asked about her favorite color, Patricia responded, "Blue! It used to be purple though." Her favorite book is 1984. "It's so intriguing and scary, but I think the concept about surveillance was important. Everyone should read it!" On the subject of her favorite food, she said, "Avocados! I love any food that has avocados in it!"
Ms. Galan's favorite sports teams are the Washington Nationals, the Capitals, and AC Milan. "I follow baseball the most. Then comes hockey and soccer."
Her favorite one liner is from an episode of Parks and Recreations. When Andy's boss Leslie is sick and her computer doesn't work, Andy says, "I think you might be having network connectivity problems." She commented, "I thought it was absolutely hilarious and clever."
DeMatha is happy to have Ms. Patricia Galan as part of the Foreign Languages department and wishes her the best as she continues to teach at the school.