Senior Captains Take Some Time to Look Back
Fall sports are part of the backbone of the DeMatha community. Some of the fall sports, such as crew and cross country, all have numerous student-athletes working around the clock to both better themselves and help their teams win. 
At the heart of all of these teams are the senior captains. Some of the best and most experienced athletes in their sports at DeMatha, they have to lead their teams all while managing the stress of being a high school senior. 
Not only are the captains responsible for leading their teams, they too have to perform day in and day out. Leading by example, they are the ones most of the team looks to for guidance and help.
Tariq Lewis has been running cross country under Coach Puffett '10 since his freshman year. As the senior captain, he feels he has grown "immensely" since his first season. "I have not only grown physically (stronger and faster), but I have also grown mentally." Tariq also added that he "love(s) this sport 10 times more than I already did coming into DeMatha." He points to his better trust in himself and his skills, and the friendships and brotherhood he's formed while on the team as examples of this.
Memories are often formed in groups, and for Tariq this was no exception. His favorite memory from the team was during a relay in Virginia. "The meet itself was late in the evening and we ended up running around 7:30 or 8 o'clock p.m." He enjoyed running at night for the first time, and also had fun due to the relay aspect of the race. "Being able to run at night was the most weird thing I've ever felt when running at a cross country meet," Tariq said.
His love for cross country has also grown. "The team chemistry that we all have for each other is strictly amazing. I couldn't ask for better teammates/coaches and for better friends." When he took the role of captain, he felt it was a "pivotal moment in my high school career." He was surprised to see how much he had grown over the years, and thanked God and Coach Puffett for "seeing the light in me even when I didn't."
Growth, however, also requires looking back at where we started. For Tariq, he would want his freshman self to be able to savor the experience. "Enjoy every single minute of the experience you have," he said. "Go have the time of your life, and never look back. Now let's go get this money."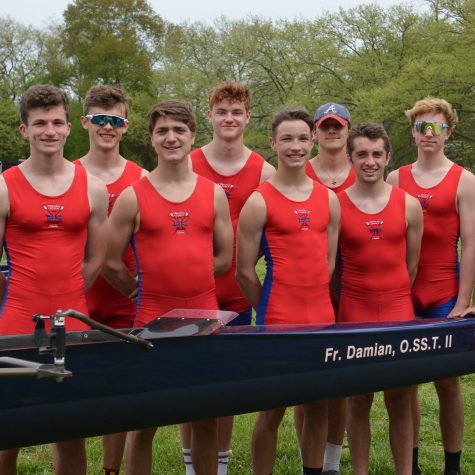 Senior captain of the crew team, Preston Valentine, believes his personal development has taken him a long way. He's able to do things in the sport that would've been impossible as a freshman. "My current 5 kilometer pace is a pace I used to joke about hitting on my freshman 2k. I can do tricep extensions with the weight I used to deadlift. Now, I can row in awful headwinds and brutal chop that would've made me capsize freshman year." 
Along with the growth in the sport came personal growth as well. He never saw himself as captain, but as he says, "other people saw a team captain in me." Before he got his leadership role, Preston had a "much easier" relationship with crew. "I was only doing my part, disregarding most problems that didn't involve me." However, once he became captain, he took an active role in helping others to improve. "I work with the team, as opposed to working for the team." 
The friendships and experiences he's had also help to improve his time on the team. In his sophomore year at the Head of the Hooch Regatta, everything went wrong. After getting the day off of school, they arrived in Tennessee late due to a busted tire, couldn't practice with freezing and terrible conditions, and got barely any time to sleep or eat. Despite this, they were able to perform, though Preston sees the race as "insignificant" in the whole view of the trip. Even though it should've been a terrible experience, he says it was made great "thanks to the guys who were on it." If it weren't for his teammates, "it would've been dreadful." Regardless, he still looks back with happiness on the whole ordeal.
If he had to tell his freshman self something, he would tell him that he would eventually grow to be "the big senior that people look up to." Like most senior captains, growth characterizes Preston's journey through crew, as he feels "nothing and everything has changed."
"It isn't something that happens overnight," Preston explains, "nor is it something that you know is happening." When it happens, according to him, the qualities of the people he once looked up to and to himself are the same.