2021 DeMatha Stags Soccer WCAC Playoff Preview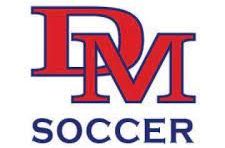 Now that fall sports seasons are beginning to come to a close, the playoffs for many of these teams are about to begin. The soccer playoffs will begin in the coming days, so what do the coaches and players of the DeMatha soccer team think their chances are in the playoffs this season?
Andrew Quinn '05, the head coach of the soccer team, says that the team looks great. "We have great senior leadership," coach Quinn says. "We have given up the least amount of goals of any team in the conference. We are excited for the opportunity to compete for the title." Coach Quinn is only focused on his team, saying, "The league has been very strong this year! Soccer is a funny game and any team has a chance in any game. That being said, our sole focus is always on ourselves and controlling the things we can control. The rest will take care of itself."
The team enjoys being around each other, as they push each other playing the sport that they love. Team chemistry has improved over the season, as well. "We all experience the highs and the lows together," coach Quinn said. "The group always comes together through these shared experiences."
Senior right back Walter-Thomas Amondji loves his team, saying, "I'm very confident in the team; we have a squad that loves to play hard and play together, and play well together." Walter believes that this team has the potential to win the championship this season. He is very confident, saying, "No team is as good as ours, no team scares us, we scare them."
The team has trained well this season, but Walter admits that some practices are tiring. "There's definitely a lot of fatigue since school drains our energy, but practices are still good," he said. The team has very good chemistry as all of the players love each other as brothers.
Senior center back Birchard Allen is very confident in this team, as well. "We have so much potential and we can definitely make the championship game," Birchard said. But he is focusing on the top three teams in the table, Gonzaga, St. John's, and Good Counsel.
"Training has been sharp these last few weeks," Bichard said. Since there weren't any real restrictions, everyone on the team has gotten used to the training. And with the season progressing, the chemistry within the team has "gotten so much better." Birchard admits that during the pre-season "we were struggling, trying to find who can fulfill each position for the rest of the season. But once we figured that out, we were so much better in our games, specifically the conference ones." Birchard added that "with the chemistry being [good], with our heart and spirit that we express on the field, we should be at the championship game on Saturday November 6, at Paul VI [in Chantilly, Virginia]."