Senior Retreat Review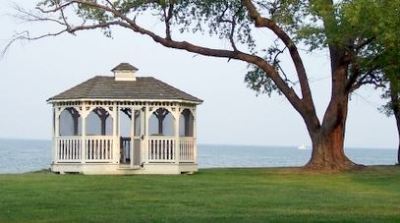 On November 22, 2021, the seniors of DeMatha Catholic High School took a day trip to Camp Wabanna in Edgewater, Maryland, for their annual senior retreat. Although it was not the overnight trip that has normally been done in the past, all of the seniors had an excellent time with their DeMatha brothers playing games, and reflecting on their time as a DeMatha man. Many students pitched in and reflected on their experiences of the trip.
Current SGA President, Therman Hawkins III said, "Overall, I truly enjoyed my daylong experience at Camp Wabanna for our Senior Retreat." Therman also learned a lot on this trip saying, "I feel more emotionally connected to my fellow brothers in my class, and I also feel like I strengthened my bonds with each of them." He also observed his classmates having a great time saying, "It was great walking around camp and seeing so many of my classmates enjoying themselves and having fun, whether it was playing pick-up basketball, walking on rocks, or playing tether ball." All of the seniors and Therman learned a lot about ourselves and each other because, "The speech made by Mr. Goodson was truly inspiring and allowed us to reflect on our past situations also." But in the end Therman enjoyed himself saying, "Everything was great! I wish it could have been even longer than one day!"
Ben Tarnosky enjoyed his time at the retreat saying, "I had a lot of fun at the senior retreat, it was a great opportunity to step away from the stress of school and college and just be present and reflective with my friends." Ben  had a lot of good moments at the retreat but his favorite was, "the baseball game we played against the teachers and doing the giant swing." He also expresses the seriousness of the retreat by saying, "Later on during the night, we had the opportunity to read letters from our families and friends, and it was an amazing moment of reflection for all of us to look back and realize just how far we've all come as students and men in general." But overall, Ben enjoyed the retreat adding on that, "I was happy to be able to have a good time with my guys and have those personal moments with them."
Denis Koslov had a good time on the retreat saying, "I really enjoyed playing sports with my friends." On the other hand, Denis did not think that there needs to be more improvement to the retreat saying, "I can't really point out what I did not like about the retreat but it was fun.
After the Senior Retreat, it is safe to say that the seniors really enjoyed themselves and had a good time even though we didn't spend the night like we normally would. Hopefully next year, the retreat will go back to normal so that the students can enjoy themselves, sleep over, and even learn about themselves and their classmates along the way.