The DeMatha impact on this year's NCAA tournament
Many DeMatha students and staff have moved on from DeMatha's amazing basketball to compete at the collegiate level. This year, four coaches and seven players from DeMatha have helped their teams advance to the biggest college basketball tournament in the country.
Two DeMatha grads in Reggie Gardner and Ryan Allen helped the Delaware Fightin' Blue Hens to win their conference tournament. They came in as a 5 seed and bested UNCW by four points to give them an automatic bid to the tournament as a 15 seed.
Josh Carlton helped Houston have a tremendous year. Houston sat in the top 25 for almost the entirety of the season and won the American Athletic Conference tournament and finished number 15 in the AP top 25 and are a 5 seed in the tournament playing UAB in the first round.
Earl Timberlake of Memphis also helped boost his team to a bid in the tournament. Memphis had a disappointing loss against Houston in the American Athletic Conference tournament, but still got a bid in the NCAA Tournament. They are a 9 seed and beat Boise State in the first round. They'll face the overall 1 seed, Gonzaga, in the second round.
Hunter Dickenson also helped boost his team to a bid. The Wolverines had a disappointing season but were still able to get a bid to the tournament as an 11 seed. They upset Colorado State in the first game of the round of 64 on Thursday.

The last two DeMatha players both play in the Big East. Jordan Hawkins for UCONN had a great season as they porpoised in and out of the top 25. They lost in their conference tournament, earned a 5 seed to the dance, and fell in the first round to New Mexico State.
The final player is Justin Moore. Villanova has had an amazing season as they remained within the top 10 of college basketball and won their conference championship. Villanova sits a two seed in the tournament and hopes to make a deep run in the tournament. They kicked off their tournament by beating Gardner, Allen, and the Blue Hens of Delaware.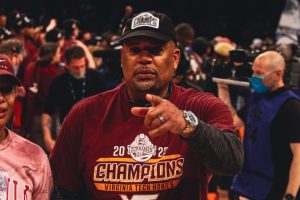 Four former DeMatha coaches will also be seen in the tournament. Mike Brey '77, head coach of Notre Dame, Corey McCrae '02, assistant coach of Delaware, Kurtis Schultz '90, assistant coach of USC, and Mike Jones '91, the first-year associate head coach at Virginia Tech, are all poised to coach their athletes to tournament success. All these players and coaches have entered the biggest college basketball tournament of the season and all hope to win.