Ben Simmons – A potential distraction?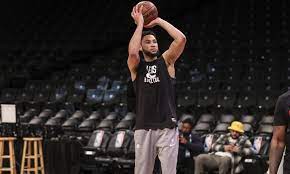 Ben Simmons is currently playing for the Brooklyn Nets. He was drafted 1st overall to the Philadelphia 76ers back in 2016. With Philadelphia, Simmons averaged 15.9 points, 7.7 assists, and 8.1 rebounds in 275 games.
Ben Simmons was a part of a blockbuster trade back in February of 2022 which sent him, Andre Drummond, and Seth Curry to the Brooklyn Nets, with the Philadelphia 76ers receiving MVP James Harden. This trade was seen as a win-win for both sides, but after a couple months have gone by it is pretty obvious to claim that only one of these teams really won the trade – the Philadelphia 76ers. James Harden adjusted quickly with the 76ers and quickly became a starter for the organization. On the other hand, for Ben Simmons, he didn't even play a game!
There was and still is a lot of controversy going on as to why he didn't play in one game for almost three months. Many thought that he was going to return for the playoffs, but that didn't happen either.
There was a lot of controversy in the last couple of the weeks during the Brooklyn Nets short playoff run. Simmons first said that he wasn't playing in games 1 or 2 because he was dealing with back issues, and then for games 3 and 4 he chose not to play because of mental health issues. Simmons was two-weeks free of pain and everyone believed he was ready to make his debut for the Nets. For Simmons, mental health remains the top focus for his return to not only the Nets, but the NBA.
Simmons chose not to play for the 76ers during the 2022 season for the same reasons, mental health and injuries. He did have some tension with the organization when they mentioned in 2021 that they were willing to trade him. Part of his mental health problems came from comments from other players about his performance. Specifically, Wizards guard Bradley Beal said that they saw a weakness in Ben Simmons, which caused him to go 10 of 28 from the free throw line during the Wizards-76ers postseason series.
"We kind of exposed the move of fouling Ben [Simmons], putting him on the line a few times," Beal said. This struggle continued against the Atlanta Hawks in the second round of the playoffs. He was 25 of 73 from the line, 34%. His struggles at the free throw line lowered his confidence. This also caused him to drop out of the Olympics to focus more on his individual skills.
For about seven or eight months, Simmons did not involve himself with the 76ers. This caused frustration with the 76ers players, specifically Joel Embiid. "The situation is weird, disappointing, borderline kind of disrespectful to all the guys that are out here fighting for their lives," Embiid said.
It is clear to say that the Philadelphia 76ers won this trade by sending, quite arguably, a "distraction" in Ben Simmons to Brooklyn and receiving MVP James Harden. The 76ers are still in the race for the NBA Championship as the Nets will watch from home. There have been more trade rumors recently that involve Ben Simmons. The Los Angeles Lakers, Indiana Pacers, and Golden State Warriors have all expressed interest in Simmons. Will Ben Simmons make his return to the NBA with the Brooklyn Nets? Or will it be somewhere else?