The Washington Journalism and Media Conference 2022: A Glimpse into the Fourth Estate
An account of my experiences at the 2022 WJMC, including interviews with fellow Youth Correspondents and Faculty Members.
Part 1: The Conference
It's not often that the opportunity of a lifetime gets handed to you through a letter, but that's exactly what happened several months ago. After a normal day at school, I was checking through the usual slew of mail from colleges and insurance scams with my parents when I noticed a letter addressed directly to me.
Fast forward about 5 minutes and a couple google searches later, it turned out to be from an invitation to a program called the Washington Journalism and Media Conference, hosted at George Mason University. Being the young journalist I am, I thought it to be a great opportunity to gain some experience in a field I'd love to get a job in.
Once I had done a little extra digging, watching a few videos and generally checking out its credibility, I had been convinced. A week on Mason's campus and around D.C., learning all the ins and outs of journalism, getting to meet amazing speakers, what's not to love? Even though the price tag was daunting, both my family and I agreed that it was an amazing opportunity that you'd be hard pressed to find anywhere.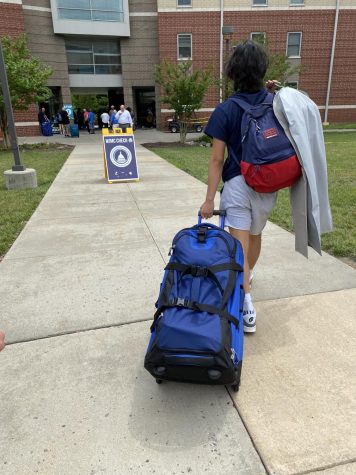 A few months had passed, and the time for the conference had rolled around. After the 40 minute drive from home had led us into the campus, I said my goodbyes to my family and checked in. Walking around, I was surprised at how official everything was. There were dozens of people clad in conference t-shirts helping us find our rooms and get us checked in, and any qualms I previously held were squashed. 
Once I was settled in, I was directed with several other National Youth Correspondents, as we were called, to get sorted into our groups. As a member of the Teal Group (best group by the way), I was introduced to our Faculty and Junior Faculty Advisors, Fletch and Ally, respectively. After shooting some hoops, making some friends, and generally kicking back, I walked back to my room where I ran into my roommate for the week, Josef from Michigan.
Two hours and some small talk later, we were heading over with our groups to a fancy dinner, everyone dressed to the nines. Even with what some would call mediocre food, I still enjoyed the whole experience. I got to meet new people, talk with my group members in Teal, and generally take in the vibe. It had been a while since I had been to such a nice event, so it was nice to be able to enjoy it.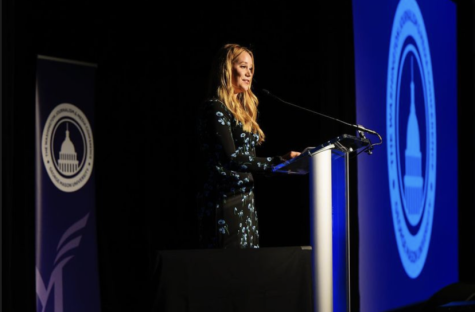 Later that night, we heard from Savannah Behrmann, the Senate Correspondent for the National Journal and former WJMC National Youth Correspondent. While she was talking, she highlighted a lot of the issues she faces as a young woman in a heavily male-dominated industry covering an even more heavily male-dominated area. Berhmann also covered her childhood growing up in a small town, where her more progressive views weren't always shared by others. She made it clear that even with opposition to her presence and opinions, it didn't impact her ability or drive to tell the truth.
As with the rest of the speakers that we would see that week, they opened up the floor for questions, and even though the person holding the microphone conveniently managed to walk past me several times, I was still able to learn a lot from both her answers and the way she answered them. She emphasized the importance of finding connections within the industry and to not step down in the face of adversity.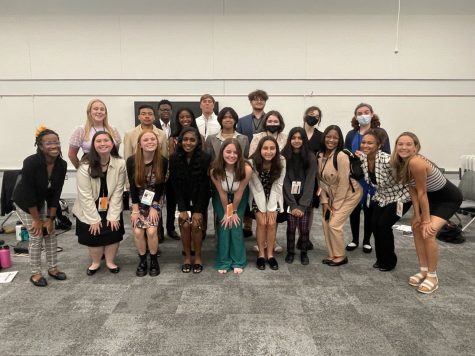 Once the dinner was over, the color groups all headed over to a classroom to do icebreakers and set up the agenda for the next day. During this, I got to talk to more people and found out it was an incredibly diverse group, not only in things like race but also in location, types of journalism we were interested in, backgrounds, orientations, creeds, and many other things. It was one of the many things that I greatly appreciated about the conference. Even though all of the Youth Correspondents were united by their love of writing and journalism, each person brought something new and different to the table than the person sitting next to them. Especially in a career like journalism, where people have to cover tough stories that may not sit correctly with everyone, having different voices is something that is integral to being able to tell a true and unbiased story.
The next day didn't let up on the coolness, at least for me. After getting no sleep at all and eating breakfast, we got onto buses to see the first speaker of the day, Arelis Hernandez of the Washington Post, one of my favorite speakers we saw that week. Not only is she a fellow Prince George's County native, but she, in my opinion, has an amazing job and is generally an inspiration. Ms. Hernandez spent a good part of her time speaking of her experiences growing up, covering her rise through the ranks and how she got there. I found it very interesting, and even though I wasn't able to ask her a question (a recurring theme unfortunately), it all worked out in the end funnily enough. I managed to talk to her both after the speech ended and through email, and she gave me great advice on staying true to myself in a society that forces you to say otherwise. This is apt advice, as she herself has faced much criticism for her work, especially on her coverage of migrants on the southern border.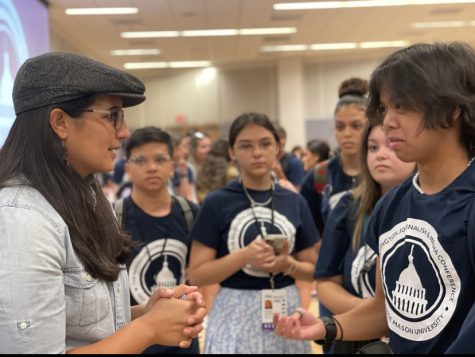 Thinking over the advice I got, I boarded the bus with my group and headed to lunch. Over Italian food, I got to learn and talk with my group members even more, which was one of my favorite parts of the two and a half days I was at the conference. Like I said, the people at the conference, and especially in my group, came from so many different places and had unique experiences. After lunch was finished, we hopped back onto the buses and went to the Planet Word Museum. Being a big museum person myself, I was really excited to go there. From the video I had watched, the museum seemed really interesting, and the fact that most of it was interactive was the icing on the cake. Plus, who doesn't love words? 
Highlights of the museum included an impromptu karaoke session, learning new languages, and listening to Kevin McCarthy, a film journalist, and his experiences in entertainment journalism. In his time, he highlighted the importance of making connections, taking opportunities when you can, and putting passion into your job. One of my favorites of the anecdotes he reminisced about (I pulled out the thesaurus for that one) was an interview he had with Ben Affleck several years ago. To make a longer story just a little bit shorter, McCarthy asked Affleck a question regarding filmmaker Kevin Smith, but what McCarthy didn't know was that Affleck and Smith had had a falling out some years prior to the interview. As the interview made its rounds across the internet, Smith found the clip, and it pushed him to reconnect with the actor. Months later, at the premiere of the movie Avengers: Endgame, Smith personally went up to McCarthy to thank him, and went on to invite him to his house to watch his new movie, which he had re-written mid-production to include Affleck in.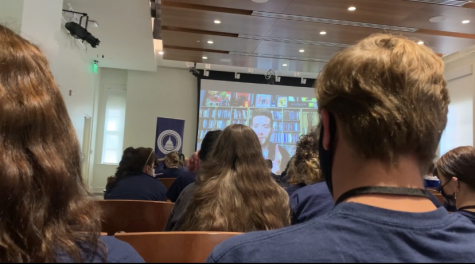 While obviously being a heartwarming story, it goes to show the impact that every form of journalism can have. To be important and make an impact, not every story has to be a hard-hitting story about the latest tragedy, simply talking about one's passion can make changes to lives in ways that many don't see.
Our deep dive into linguistics and entertainment journalism over, we headed to dinner, and after that we got to go out in front of the White House and tour the monuments of D.C. at night. The visit to the White House was nice, and because it's the White House there was obviously a lot of interesting stuff going on. There was a group of Ukrainian protesters speaking out against Russian military action in their home country, and it was nice to talk to them and get their point of view. Additionally, seeing a man seated in a lawn chair, donning a MAGA tank top while screaming at the top of his lungs was entertaining to say the least, though probably not as fun for the Secret Service agent standing in front of him.
Seeing the World War II Memorial at dusk was incredible, and taking a walk around it was a somber and inspiring reminder of the ideals this country strives and often fails to reach. Still, one can't help but to admire the neo-classical architecture at work, especially at the fan favorite Lincoln Memorial. Seeing the larger-than-life bust of Lincoln sit atop the hill covered by the structure inspired by the Athenian Parthenon really helps to bring around a sense of scale and grandeur, similar to the man's grand achievements in pushing this country towards liberty and justice for all.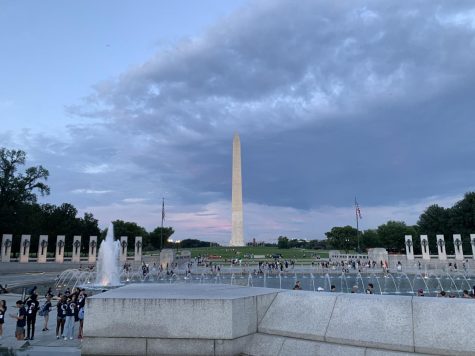 Plus, the view was pretty killer. With some free time, I was able to walk around with my friend to the Korean War Memorial, one of my favorites. The statues of the poncho-clad soldiers slogging their way across the field serve as a fitting memorial to one of the forgotten wars of our country. By the end of the day, I was satisfied at the end of a fun and informative adventure. 
Tuesday. The big day. The day where we would begrudgingly have to wear our suits and formal wear into the city. In the middle of a D.C. summer. Even with the prospect of sweating my body weight out, I was fairly excited for the day ahead. We would be seeing even more interesting speakers, getting to go into the National Press Club, and got to start planning for Wednesday's journalism simulation, one of the events I had been eagerly awaiting.
To start the day off, we listened to Andrias White Murdaugh, the Vice President of Strategic Events at the Congressional Black Caucus Foundation. With her experience serving as an event organizer for many years, and as a guest co-host for the show Virginia This Morning, she had plenty of advice for us. She encouraged us to go with our gut feeling, even if it didn't seem right at first. She also emphasized that even though she wasn't sure about her future, that she wanted to make a difference and pushed herself to do so.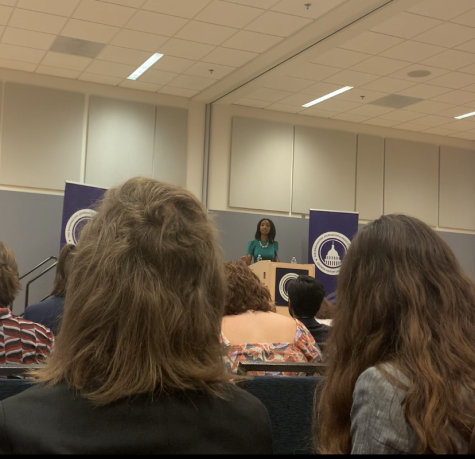 Once Mrs. Murdaugh had finished her speech, we headed to a shopping plaza near Pentagon City where we got to eat lunch and walk around for a bit. It was nice to get some downtime and be able to move around outside, especially as we would be sitting down for a couple hours after this. Getting some ice cream also helped with the ever-rising heat. 
Now onto the National Press Club. Even though we had to stand for a good 10 minutes underneath the baking sun (still in our full suits and formal wear mind you), once we got inside I was instantly impressed. I'm sure the air conditioning helped, but it was quite fancy. The interior, about 13 stories up, reminded me of that classic D.C. feeling. The old wood and carpet, along with the multiple pictures of famous speakers on the walls, really gave the club a lot of character. Settling into a large conference hall, we got ready for our first of two speakers, Doni Holloway of NBC/MSNBC.
Holloway had started off his career in journalism at a young age, editing his family's newsletters. While he was growing up, he was able to get amazing opportunities, simply by asking around and finding people who needed his skills. He eventually turned this into a successful career.
Included with his life story were 5 important things and ideas that were integral into becoming successful in any field. First, you had to seek mentors and networks, a recurring theme among many of the speakers. Second, he emphasized the power of ideas and encouraged us to be creative with our work. Third, Holloway encouraged us to respond to obstacles in a positive way that wouldn't drag us down. Fourth, one of the more important ones, was to ignore the naysayers. Finally, he stressed the importance of showing up and asking for what you want.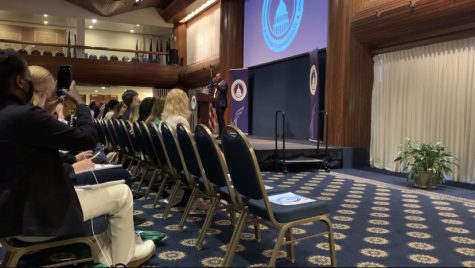 Holloway serves as a great inspiration to me, not only in his career but in the way he conducted himself. He was extremely confident, funny, and you could tell he does this sort of stuff for a living. One of my favorite moments of his speech was when he attempted to show us a video of one of his mentors congratulating him, but the video didn't come up. After a couple moments, he went on with his speech anyway, and I was impressed at how quickly he had recovered from it.
After Holloway had finished up and we were let on a short break, I returned to my seat after corralling a bloody nose to listen to our next speaker, Daniela Pierre-Bravo, a producer for MSNBC's "Morning Joe" program. Much like Hernandez, I found her story quite interesting. The daughter of undocumented immigrants from Chile, Pierre-Bravo had to face a large amount of adversity just to get a shot at a lot of jobs. One such story she shared with us was of her attempting to get an internship in New York. She had achieved an interview with the company, but as she was living in Ohio at the time and, due to her undocumented status, had no driver's license so she couldn't drive herself. She had to get a ride to the nearest city, where she took a bus ride for several hours until she reached the city. In somewhat of an ironic turn of events, when she finally got to the job interview, the company informed her that she could've done the interview over the phone.
However, the main point of the story was that whatever the circumstances, you are the only person who can change your own life. Even with a lot of help from friends and family, it was up to herself to put her life in the direction. Later in her speech, she covered how she overcame the so-called "immigrant" mindset. For those unfamiliar, the phrase is most commonly attributed to the feeling of not belonging in a certain country, and the feeling of also having to constantly prove that you belong in said country. Feelings such as these are common among immigrants, but can often trickle down into future generations.
As someone who used to and often still struggles with such feelings, her advice on being authentic to yourself spoke to me deeply. As with Hernandez, I wasn't able to ask her a question during the allotted time, but I was able to approach her after the matter and have a good discussion. Getting to have a one-on-one conversation with people like Pierre-Bravo and Hernandez was among my favorite parts of the conference. It's amazing to be able to see these like-minded people and get to pick their minds on topics that were both important to me and to them.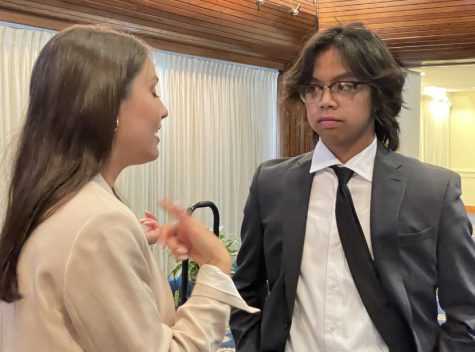 Our time at the National Press Club finished, we went on our buses back to Mason where we were able to finally get out of our suits and such and get some dinner at the dining hall. After I had changed and ate some dinner, I took a walk around the campus and was able to enjoy the views of Mason at dusk. The sunset was beautiful, and after a busy day filled with speeches and such, it was nice to get some quiet time to myself and think about the week ahead. Later that night, we met as a team to go over what we would be doing the next day, the much awaited journalist simulation! 
However, in a totally not lame, super cool and very awesome turn of events for me that I'll brush over very quickly, I soon found myself alone in my room at my home due to my first ever positive Covid-19 test, which was amazing and cool and was totally not a mega bummer. In all seriousness, I was devastated when I got that positive test. The conference had not only been a great opportunity for me to learn more about a profession I've dreamed of going into, but I had also met so many amazing people and made terrific friends that I was never able to say bye to. I was able to be myself, express my interests in a group that was accepting, and got to make new friends! Even though I was only there for two and a half days, I'll remember the lessons I learned and the friends I made for a very long time.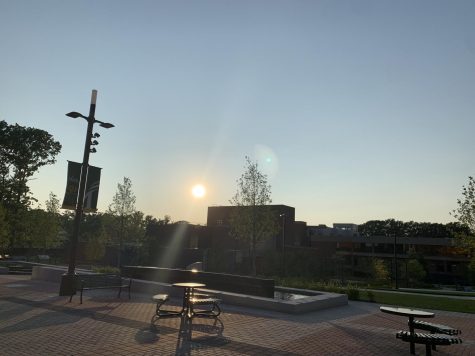 Part 2: The Correspondents
Now on to what makes the conference so great: the National Youth Correspondents themselves. Hundreds of them make their way to Mason's campus from all over the country to attend the one week conference. 
Most are united in their love of journalism, especially those like National Youth Correspondents Mitchell Davis and Dakota Maniau. "I love to write and enjoy nonfiction stories," says Davis, who thinks that any job where he's able to explore the world and meet new people while writing about it would be great for him. Maniau similarly enjoys writing, and would want to be an author as well as a journalist. "I want to be an investigative photojournalist while I write my books and publish them to be an author!" she added.
On the flip side, there were those that weren't journalists per se, but still held interests in writing. Bella Garcia, another National Youth Correspondent, finds herself leaning towards writing poetry, plays, and short stories rather than straight-up journalism, but she still finds that "both are interesting fields."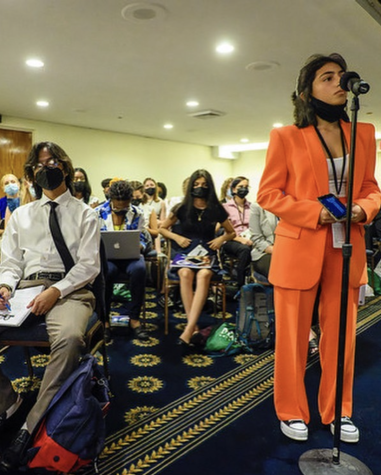 With a crowd as diverse as the Youth Correspondents were, many came from very different places around the country. Maniau undertook the long journey from Florida to the conference along with her mother by car, since her mother isn't the biggest fan of flying. Even though she has trauma from being on highways, Maniau "tried to take in the beauty of the nature around" as a way to calm down. Her drive wasn't entirely peaceful, however, due to the presence of "crazy drivers" (anybody who's driven in Maryland can relate), even passing a crash that "left blood on the road."
Davis and Garcia, on the other hand, had relatively tranquil travel experiences. "I have relatives in Northern Virginia," Davis revealed, "so I flew out from my home in Colorado and spent a few days with them before it was time for them to drop me off at the conference." For Garcia, who lives in Virginia, it only took a simple drive to get to the campus.
Despite any unpleasant times they had traveling, all were equally excited for the experiences that came with attending the conference. Garcia, who had never had such an invitation before, was thrilled to go. In regards to what she was looking forward to, the gala on the final full day of the conference piqued her interest. "I figured it'd be fun to dress up for and I had no idea what to expect from a gala." Maniau, similarly to Garcia, hadn't been to this type of event before, and was somewhat skeptical. "I didn't want to get my hopes up," and she added that the excitement was somewhat dampened by the stress of raising money. However, all of the stress didn't stop her from anticipating the week in the capitol. "I was looking forward to meeting leaders that could grant me opportunities," Maniau reminisced, "and making new friends since I don't get to do this a lot."
Davis, always excited for an opportunity to write more, already had plans to attend another summer program, but he "practically drooled" over his WJMC invitation, and decided it would be pertinent to switch. "It seemed so cool and swanky–Pulitzer-winning speakers! Galas in D.C.!" He later added that it made him feel good to receive the invitation. Like Maniau, Davis was also looking forward to meeting new friends who held similar journalistic interests.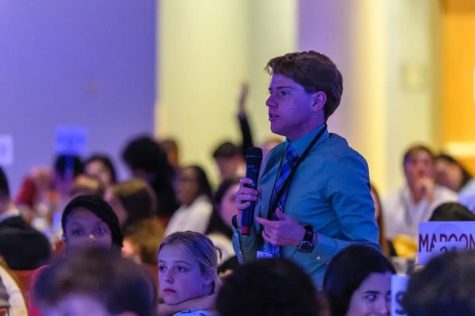 Once they had made it to the conference, it seems that most of the experiences the Correspondents had were positive. "I was a bit disappointed that some people had to make drama in a group that would only be together for a couple of days," Maniau lamented, "but other than that we still held together and had fun…it was every bit I wanted it to be." Davis, through his experiences with the Maroon Group, really enjoyed his time. He noted that the Correspondents were incredibly socially inclusive, in a way he doesn't see often at his public school. "Everyone there was new to each other, so everyone was friendly and would talk, and we could have great conversations because we were all from that subset that is motivated and thoughtful."
Davis also noted that one of the other experiences he enjoyed during the conference was getting to listen to the speakers, especially the aforementioned Arelis Hernandez. "The work she does really interests me, so I emailed her after the Q&A and she actually responded to my questions." Even though she came in with expectations of being constantly exhausted, which she added did happen, Garcia was pleased at the amount of breaks that the groups received. "It was nice to have some more time to recover in between events." Unfortunately for Davis, he also joined the Leaving Halfway Through the Washington Journalism and Media Conference Due to Covid Complications Club (LHTWJMCDCCC), which he found to be one of the more surprising experiences of the week. 
Every week has highlights, and for the Correspondents at the Conference, there were certainly many of them. Davis, in particular, had two favorite parts of the week. The first was getting to meet and interview Ukrainians and their sympathizers protesting Russian actions in the ongoing Russo-Ukrainian War outside of the White House, as he loves "the feeling of being close to big events, seeing history firsthand." The second was mealtime, though Davis admitted it wasn't due to the food. Mostly, he found, it was due to the conversations he held with the people around him. Thursday, being one of the more exciting days of the week, holds a special place with Garcia. "I enjoyed eating in the Southside Dining Hall, touring the museums and wandering around the (National) Mall, and I really enjoyed the gala."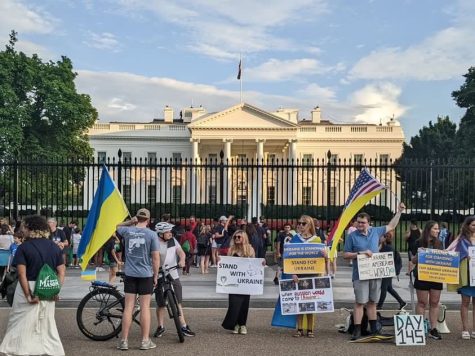 Likewise, Maniau greatly enjoyed the activities that Thursday brought, with one of the highlights being able to see the Capitol. "My favorite part was going to Capitol Hill and seeing the culture of the profession and everyday life blend." She also remarked that the experience of getting to explore and have fun independently was an added highlight.
Writing, and journalism by extension, requires those in the profession to set themselves aside from the crowd by way of their own uniqueness. For Maniau, she feels that her experiences and ability to go with the flow make her stand out from the crowd. "My experiences," she observed, "give me unique abilities to make certain decisions. I have a pretty blended aesthetic and open mind and heart." Absolutely rocking an orange suit with Chucks at the National Press Club certainly helped to make her stand out from the crowd as well.
For Garcia, growing up in a military family helps her to stand out from the rest, as she's had "certain experiences as a military brat that other people may not have had." Additionally, she feels that the several writing classes she's taken have added to her uniqueness. Davis, always the wordsmith, believes that his writing style sets him apart from other journalists. "I want to tell stories through the written word, (ones that) someone can sit down and read." Davis' "clear, elegant, and provocative prose" adds to this, as he trusts that it sets him apart from journalists who don't put as much thought into their writing.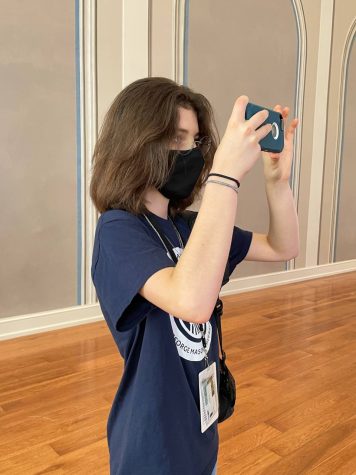 With a conference as educational and as exciting as the WJMC was, there are always lessons to be learned. Davis, with the advice of people like Murdaugh, Holloway, and others, found that his main takeaway was to "network, network, network, and intern, intern, intern." He also emphasized the importance of doing the job whenever possible just to get a foot in the door. Additionally, he also found some lessons from his fellow Correspondents. "The Maroonie Goonies were so nice to me and I heard from some of them wishing me well after I had to leave. So I think there's a lesson there that when you're in the right place, people will appreciate who you are." 
With everyone's future being uncertain, like Murdaugh said in her speech, Maniau found that the journey of journalism is one to be enjoyed. "The lesson I'll take home with me is to have fun with the journey because journalism is unpredictable."  Among the many quotes hastily scribbled down in a notebook, Garcia found one quote from Hernandez to be quite powerful. To quote the journalist for the Post, "I'm not sure that the true goal is objectivity. I think the true goal is fairness." Garcia believes it to be an interesting take on the status of bias in journalism, and certainly is a quote that holds great importance. One lesson is for sure though, and that is that journalism and journalists are some of the most important parts that are needed in holding a democracy and society together.
All of the Correspondents share a love of writing and journalism. However, one homogenous voice does nothing to represent our diverse and manifold country. That is why it is incredibly important to realize those differences that each one of us holds, whether it be racial, whether it be in gender, whether it be in shared and personal experiences, and whether it be in opinions. To accurately bring voice to the needs of the people, our ways of getting news must reflect the people it represents and protects. Even though all of the Correspondents interviewed held different interests, had different experiences, and took away different lessons, they all came with the shared goal of experiencing true and real journalism. 
Part 3: The Faculty
For all that the National Youth Correspondents do to make the Conference what it is, the faculty are the ones who make it possible for all of it to actually happen. Like the Correspondents, they come from all over the country to help foster an appreciation and gain experience in the practice of journalism.
Some of the faculty and staff, like Junior Faculty Advisor Allison Alberty, were once participants in the Conference themselves. "I was a correspondent in 2018, returned as an intern in 2019…and was a JFA in 2022," and additionally helped manage the social media for the conference. Alberty, during her stint as a correspondent, "fell in love with journalism" and wanted to intern the following year so she could return to the environment along with fellow "journalism nerds."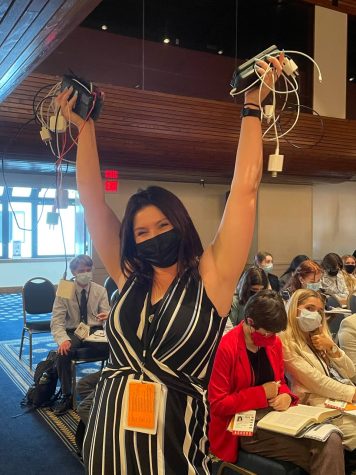 Most, if not all, of those involved with the Conference hold great interest in journalism and its related areas. For Alberty, who is majoring in communications with a minor in political communications, she is no exception. "I want to be a press secretary, political journalist or director of communications for a politician," she revealed.
Even though the journalism-focused events and experiences of the conference itself are what draws people in, Alberty kept on coming back because of the friends she had made. "I've met some of my best friends at WJMC that come from all over the country to share their passion of journalism with other people," and she feels that experiencing that type of enthusiasm first-hand was and continues to be "both inspiring and beautiful."
Having been a part of the Conference for several years at this point, Alberty has grown to love certain parts of it. Before the untimely closing of the Newseum in Washington, D.C., her favorite part was visiting it. "Their commitment to showing how much journalists sacrifice, what freedom of speech means, how 9/11 played out from journalists' point of view…is truly unmatched." Even with its closing, Alberty still hopes that one day it will come back and reopen. (I hope so, too.) Now, as a Junior Faculty Advisor, her favorite part is seeing the Youth Correspondents make valuable connections, including with meaningful speakers. 
For this year's Conference, Alberty found that she enjoyed the Week 1 Journalist Simulation, where the Correspondents would have to work with one another and experience what it's like to be a journalist in the real world. "It was so great," she commented, "to watch students dive into their creativity and use journalistic skills to create headlines and leads." Unfortunately, like fellow Conference attendees Davis and this author, she also joined the LHTWJMCDCCC, which means she missed most of Week 2, but I'm sure she would've seen the same amount of creativity at work.
The journalism world is a small one, and the forging of connections, networks, and relationships is key to making it in such a field of work. Regarding any advice for people looking to find a solid career in journalism, Alberty feels that treating everyone (especially in the industry) with love and respect. "People you sat by in the conference may be your boss one day, or I could be your boss, or you could be mine. Treat everyone you come across as if they're the most important person…anybody could be a mentor or a reference or a next stepping stone to a job."
Additionally, she recommends broadening your experiences and getting a taste of the different flavors of journalism and media. "You don't have to be interested in political communications to try it. You don't have to be interested in public relations to try social media marketing…broaden that resume. The more you can learn to do, the better!"
The role that teachers, mentors, and guiding figures have is an oft overlooked but incredibly important job in fostering the next generation of leaders. Sure, it might be possible for people to find their way on their own, but having a person there to guide you along the way and help to find your passion is key in developing a solid basis for a successful life. In order to be able to keep on giving a voice to the citizens through journalism and media, young journalists need people like Alberty to lay the groundwork.
Part 4: The Conclusion
What a week (two and a half days in my case) it was. The Conference was one of the first times I pushed my boundaries and allowed myself to nerd out with my fellow journalists. It was a great and amazing look into the world of journalism, a career I hope to one day pursue. Also, it was a tremendous opportunity to make new friends and connections, ones I hope last for a long time. Despite my rather short time there, I was able to learn so much and if anyone reading this gets an invitation, I strongly recommend that you attend. Even if you aren't incredibly invested in journalism, there are many good lessons to be learned about networking and making connections. If you are, however, incredibly invested in journalism, you'll surely find that you will walk away from the Conference with a valuable experience.