Josh Allen or Patrick Mahomes: DeMatha Answers
Josh Allen and Patrick Mahomes are considered to be two of the most talented quarterbacks in NFL history. The question is: who is better?
Prior to the 2021-22 NFL season, Mahomes was the consensus better player as Mahomes was an established superstar while Allen was on the rise. However, at the beginning of that season, the tide slightly turned as Allen excelled while Mahomes endured the worst stretch of games of his career
Then, after their division round showdown where the Chiefs won the proclaimed greatest game of all time 42-36, the tide fully turned towards Allen, who played perfectly while his defense and the "unfair" overtime rule failed him. Coming out of that game, the perception of Allen was that he was "invincible" and "in a league of his own."
Before the 2022-23 NFL season, the NFL's YouTube page conducted a community poll that asked "Which QB would you start a franchise with?" and listed five options: Lamar Jackson, Justin Herbert, Joe Burrow, Josh Allen, and Patrick Mahomes. With 448k votes, Allen finished first with 47% of the vote while Mahomes finished second with 26%.
The Josh Allen vs Patrick Mahomes debate is an intriguing debate that can produce numerous opinions, which is why the DeMatha Stagline conducted a poll that asked DeMatha students who is better between the star-studded QBs.
In a poll asking 100 Stags, Mahomes narrowly edged out Allen 51-49.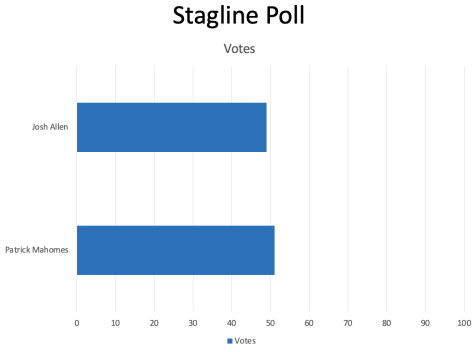 When conducting the poll, most people who said that Allen was better chose off of recency bias. Many Allen voters initially asked if the polled was asking "who's better right now" before confidently selecting him. As for Mahomes, the majority of his voters chose him based on his whole career. A multitude of people asked in the poll stated that the Mahomes/Allen debate is "not even a question" and concluded that Allen "isn't in the same league as Mahomes."
A couple of people on both sides were asked to give compelling reasons as to why their chosen quarterback is better. When asked about Mahomes, junior Andrew Bing stated that Mahomes is "more accomplished" and "has led his teams farther" than Allen. In his four years as a starter, Mahomes has been an MVP and has led his team to two Super Bowl appearances and one Super Bowl win. In contrast, Allen's years at the helm have resulted in zero MVPs and a lone conference championship appearance.
Bing continued by saying, "Mahomes has won more matches against [Allen.]" In their four career head-to-head matchups, Mahomes decisively leads the series with a 3-1 record. In their two playoff matchups, Mahomes is undefeated at 2-0, knocking Allen out of the 2021 conference championship and the 2022 divisional round. The Kansas City golden boy tramples Allen in both accolades and head-to-head duels.
When asked why he believes Allen is better than Mahomes, junior Champion Shipley first argued, "[Allen] has a higher completion percentage than Mahomes." In his career, Allen has had a year with a 70% completion percentage and has so far boasted a 71% completion rate this season. On the flip side (with roughly the same amount of attempts), Mahomes hasn't had a full season with a completion percentage over 67% and only has connected on 68% of his passes in the early season for 2022.
Shipley then argued about Allen's progression, saying, "He's improved year after year to the point where [Allen's] the best QB in the league." Comparing Allen's first full season to his latest, Allen doubled his yards and tripled his touchdowns. In his most recent playoff run, he threw for 637 yards and 9 touchdowns over two games. After the first three games of this year, Allen is an MVP-front runner as he leads the league in yards (1,014) and is second in touchdowns (9). The man in Buffalo is arguably the best player in the league and still hasn't seemed to reach the pinnacle of his powers.
Based on the Stagline poll, both QBs are legitimate superstars that are firmly in each other's league. With Mahomes being 27 and Allen being 26, this debate will presumably be both prevalent and contentious for the next decade. The QBs will have their fifth career matchup on October 15, 2022, continuing another chapter of the NFL's next "greatest" rivalry.