Who will be the Commanders starting Quarterback?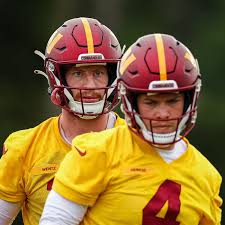 We are past the midway point of the NFL season with the trade deadline ending on November 1st. After a 1-4 start the Washington Commanders are now 6-5. Currently they are 5-1 in their last 6 games. The Commanders are currently just outside the wildcard, one game behind the Seattle Seahawks for the 7th seed. 
Already suffering a loss to the Cowboys and the Eagles in an already stacked division it seems unlikely for the Commanders to take the division crown this year. But with a lot of the supposed "NFC Contenders" going into the season like the Buccaneers, Packers, Rams, Cardinals, and the Saints all struggling this year the wild card race is wide open. The Washington Commanders are fighting for a wildcard spot but they have a tough decision to make. 
Carson Wentz is expected to be fully recovered from his finger surgery in about 2-4 weeks and the coaches have a decision to make. Taylor Heinicke, who is a fan favorite, has started the past 5 games impressing the coaches, players, and fanbase and has brought a spark to the Commanders season. Bringing the Commanders to an above .500 record but now the question is when Carson Wentz is healthy who is the Commanders starting Quarterback?
Class of 2023 Darian Simpkins when asked who he wanted the Commanders to choose as the starting Quarterback for the rest of the season would say, "Considering how much better our receivers look and how many more targets our Wide receiver one Terry Maclaurin is getting, I would want Taylor Heineke to start"
 Oakland Mills class of 2023 Justin Martin when asked about who he wants to start at Quarterback for the remainder of the season would also say, "Wentz had his time to prove himself at the beginning of the season and he stunk, while Heinicke is actually bringing energy to the team and we are actually winning games. I want Heinicke to start and if he struggles then give Sam Howell a chance." Commanders fans know who they want for the remainder of the season, now the front office must make a decision.