Peter Macyko: Captain of DeMatha
How does one become so involved in his community?
You would be hard pressed to find someone more involved in the DeMatha community than Peter Macyko. His easy smile and friendly attitude lend themselves well to his many leadership positions in several different groups. Last year he was not only voted captain of Voices of DeMatha and the crew team, but he was also elected to lead the school's chapter of the National Honor Society. He has been involved in the school's musical productions and the investment club. Peter can be found in all corners of the school, and he wants to pass on some of his skills to Stags who want to be leaders in the future.
Peter is a four-year member of the Voices of DeMatha, the school's premier choir. He has performed at dozens of DeMatha events and at multiple competitions around the country. When asked to describe his fellow chorus members, he describes them as "a great group of guys" and even as "family." He credits his leadership position within Voices to being once a freshman in the group, a difficult task. He also credits Coach James Turk with his development as not only a singer, but as a leader.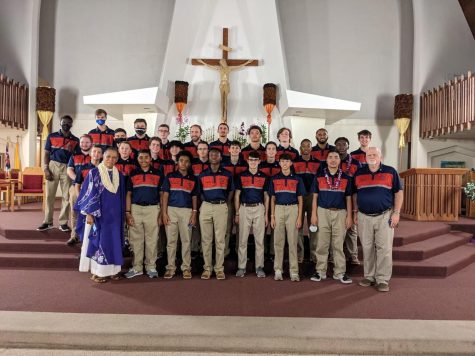 Peter was elected captain by his peers last year, and has worked tirelessly this semester to live up to the yearly high expectations for the group. Peter's main job as captain involves making sure everyone is "on track, learning their parts and learning their parts well." His quality control at the captain position makes sure that everyone is performing at a "Voices of DeMatha level."
Peter credits the group with making the highschool transition easier for him. He said that Voices worked as a built-in friend group that he could rely on as his "rock." He strongly identifies with the chorus subculture at DeMatha and wears his chorus jacket with pride. Voices of DeMatha has been a large part of his high school experience, and it would not be complete without it.
Peter joined crew his freshman year at the recommendation of his older brother. He said he joined because "I hated to run and wanted to row, but I found out rowing is harder and now I'm stuck." He stuck it out and has nothing but good things to say of the sport. He says it's a good beginners sport because "everyone is on the same level." There are not many crew teams available to middle schoolers, so everyone is in the same boat, literally and figuratively. Peter was also elected captain of the crew team last year and said his goal for this year is to maintain "great team culture."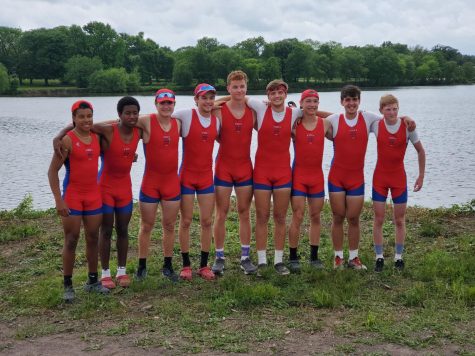 As captain, Peter emphasized the importance of communication, and says that the crew captains act as "the link between the coaches and the rowers." Peter said that "crew is the ultimate team sport" and that a "close boat makes a fast boat." He wants to maintain a trusting environment on the team and make sure everyone is on the same page.                               
DeMatha's crew team has been all over the country, and even out of it when they went to Canada over the summer, so Peter is irked by people who say crew isn't a real sport. "It's a full body workout," said Peter when asked what about crew makes it unique. "It's an endurance sport, just like cross country." He believes people at DeMatha should know better, as the rowing competition during the DeMatha Way demonstrates. Peter also identifies heavily with the crew team, and you see him wearing his crew jacket just as much as his chorus one.
One of Peter's highest positions is president of DeMatha's chapter of the National Honor Society. Peter joined the NHS his sophomore year and was elected president last year despite not even being at the meeting that named him as president. His goal for this year is to make the NHS more visible and active in the DeMatha community. He remembers the NHS from his freshman year as the "face of the students" and as "pillars" of service within the student body. He wants to "kick start" the NHS again this year and make it more active then it has been recently due to Covid-19.
He wants to take small steps towards returning to the old NHS. He wants to reinstate the tutoring service offered by them in the past and wants to bring more accountability to the members. Another way he wants to make the NHS visible is to speak with the freshmen in the DeMatha Way classes, and give them advice on how to be good students and potential future members of the NHS.
Juggling all these commitments his senior year hasn't been easy, but Peter believes they will serve him well in college and beyond in his future career. He has applied to college and his top choices are Catholic and the University of Delaware, where he hopes to study kinesiology. One book he can be seen carrying around is 7 Habits of highly effective teens, and it seems that whatever that book has to offer is useful, as 'effective' is a term many would associate with Peter. He is a brilliant example of a faith-filled gentleman and scholar, and he is a model to emulate for any Stag.