Determination of Victor Oladipo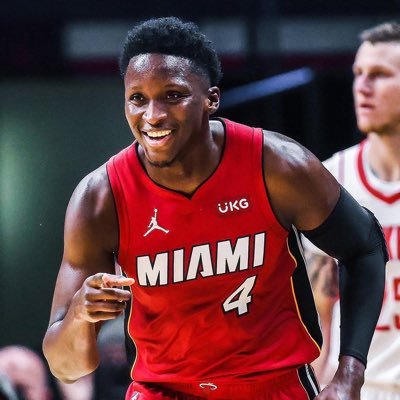 With only five more games until the close of the 2022-2023 NBA basketball season, it's concerning what Victor's future career looks like with the Miami Heat.  His average basketball statistics this 2022-2023 season are PPG 10.1, RPG 3.2, APG 3.4 and PIE 3.4 and he has had three 'do not play, coach's decision' this season due to other teammates being more physically healthier than himself.
After suffering a ruptured quad tendon in his right knee in January 2019, he had a major setback to that same knee when going up for a dunk in a game against the Los Angeles Lakers in April 2021.  This resulted in him tearing his quad tendon, yet again.  The examination of this second injury revealed to his surgeon that the state of Victor's tendon was in worse shape than they thought. As a result, when repairing the tendon a second time in May 2021, the reattachment of the tendon was repaired a little differently than the first surgery.
While having had an extensive recovery from this injury, then a sprained ankle and had back spasms throughout the season, leading to Victor missing 33 games this season. This may have led to Miami' Heat's coach Erik Spolestra decision to not have Victor in rotation in recent line-ups. When asked by a Miami Herald reporter how he felt about not being in rotation the last couple of games, Victor said "It's not something I'm used to.  So I'm not really sure how to go about it.  Like I said, I'm just focused on improvement and getting better." 
Just like former Dematha Catholic High School head varsity coach, Mike Jones, told NBC Sports in an interview on August 2, 2020,  about Victor, "he started out on the Freshman team then worked his way up to varsity, and he did it the hard way,"
Victor does not question why his career has taken a setback but instead focuses on working his way back up to be the outstanding player as once seen as the second pick in the first round of the 2013 NBA draft.