Capitol Hoops Summer League Challenges and Prepares Players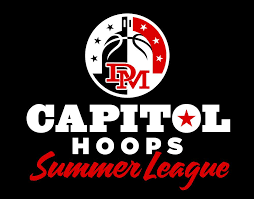 The DeMatha summer league was originally founded by long-time DeMatha head coach Mike Jones '91, who is now an assistant head coach at Maryland, and his staff. In 2018, Marc Stern and the Capitol Hoops staff took over the day-to-day operations of the summer league and ran the league in conjunction with DeMatha.
Now the Capitol Hoops Summer League at DeMatha is still being mainly run by Marc Stern and the Capitol Hoops staff and has expanded to 48 teams. Starting this summer there's another location besides DeMatha, which is the Annapolis Area Christian High School. Summer League games will be taking place at these two locations almost every day starting on May 21 and going all the way through June, ending on July 1 with the championship game.
The Stags are coming into this year's summer league looking to do what they are always trying to do, which is to win another championship. The Stags are the two-time defending champions due to wins over Bullis in 2021 and Georgetown Prep in 2022. DeMatha will be facing off against Bullis on June 2 at 6:15 at DeMatha, which should be one of the best games of the summer league.
Bullis will be out for revenge after their loss in the championship in 2021. Sophomore varsity basketball player Jacob Wallace said, "They have a 6-9 center so we need to focus on boxing [out]. When asked about what he and the team need to do in order to secure the win against Bullis this summer, Wallace said, "I'm going to push the pace and get my teammates involved."
The Capitol Hoops Summer League allows for new varsity players to become comfortable with playing varsity basketball and to build chemistry with the returning varsity players. Sophomore Caden Walton, who will be playing for DeMatha's varsity summer league team for the first time, said "I feel electrified… I know I will gain lots of skills from this experience."
Fellows sophomore Nijel Cross talked about how he's going to use his first varsity summer league season to get better. He said, "I will hopefully prove myself for next season and get accustomed to the varsity level."
Overall, the Capitol Hoops Summer League expansion this year has given a large number of players and teams a chance to challenge, prepare, and prove themselves against high level competition as the regular season approaches.