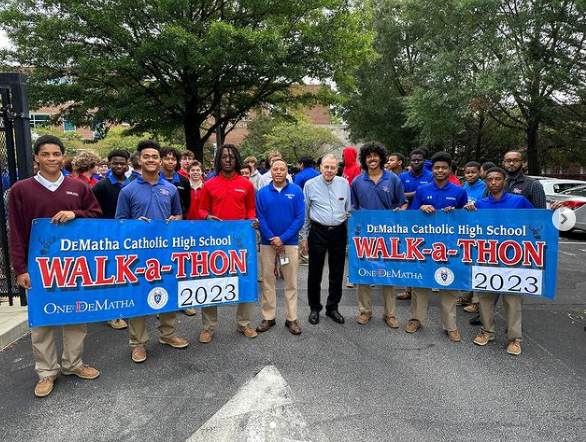 The walk-a-thon is an annual tradition at DeMatha. During the walk-a-thon, students  walk along the streets near the school and take pictures and interact with locals. It's a great way to promote DeMatha and it is also a way to raise money for certain groups of people.
This year DeMatha is raising money for kids in foster homes who tend to move a lot. They provide the kids with toys, food, and other goods. According to the DeMatha website, "The event will benefit Comfort Cases, a national nonprofit that provides children in foster care with backpacks and personal and comfort items to carry with them as they move from house to house." Students' opinions on the walk-a-thon are always different. Some students like the walk-a-thon and enjoy the air and the walk. Other students dislike the walking because they are already tired from school or they just want to sit down and now they have to walk.
Teachers' opinions on the walk-a-thon matter, too. The teachers have to walk with the students, take pictures, and interact with students and locals. Some of them enjoy the break from teaching. Mrs. Belt said, "I enjoy walking through the community of Hyattsville. I like watching the students come together for a cause, and also taking a break from the typical school day to get some exercise."
The walk-a-thon has supported many causes over the years, and Mrs. Belt appreciates this year's cause because "it allows our students to reach out to people their own age and help them."
The walk-a-thon started in 2003 for the purpose of a public demonstration of support for people struggling. The first couple of causes that DeMatha supported were providing shelters and food, assisting with the housing shortage problem to help youth who are assigned to foster care, because in foster care kids frequently move from place to place.