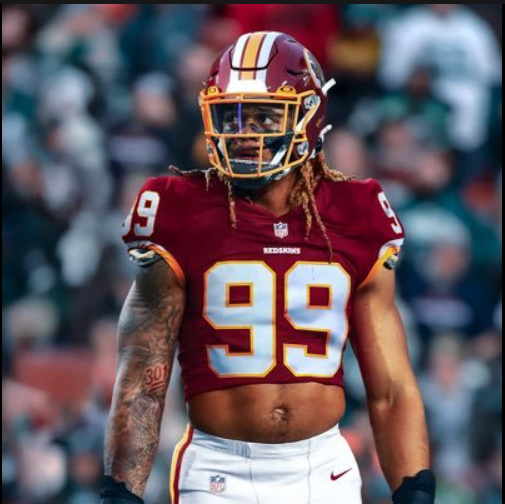 The Washington Commanders have started their season 2-3, with crucial wins against the Cardinals in Week 1 and the Broncos in Week 2. At the forefront of their success has been Chase Young '16, as the 2020 pro-bowler is back and having a solid impact on the team.
In Week 10 of the 2021 season, Young suffered a torn ACL and ruptured patella tendon. After this injury, he missed 22 games, and was only able to play the last three games of the 2022 season. Young then missed Week 1 of the 2023 season with a neck injury, and fans began to suspect another lost season for the injury-prone star.
Despite these injuries, Young has played in three of Washington's games this season (starting two of them) and has so far played well. Currently, Young has a total of 8 tackles and 3 sacks, contributing immensely to one of the best pass rushes in the league. DeMatha football offensive coordinator and long-time Commanders fan Luke Casey said, "[Chase Young] is getting back into the groove, and showing that with a few games under his belt, he is getting back to the old Chase Young."
Coach Luke spoke about the challenge of planning for a player like Young, as he stated, "You can do things like read him, make him think a little bit, and then obviously make him run sideline-to-sideline by throwing screens and the quick game… However, it's still kinda hard to game plan for a guy like Chase Young."
Despite Chase Young being in the NFL, he still finds time to come and support his former school. Coach Luke had his own experience with this, saying, "We were coaching a game against Life Christian and I turned around… and to my surprise it was Chase Young, it was kind of a shock."
Chase Young has fought threw injuries and diversity in order to get back on the field and be the dominant defensive force fans and scouts have collectively raved about for years. If he continues to get better and better as the season progresses, the sky will be the limit for the former Stag.