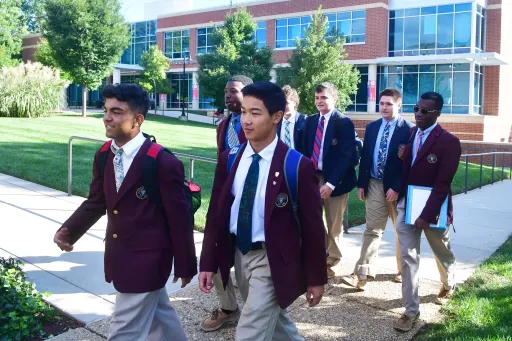 On October 16, students at Dematha Catholic High School will be back in winter uniform. At DeMatha, there are two types of uniforms, the winter and spring uniform. The spring uniform consists of DM brand khaki pants, a DM polo shirt, sperrys, and a belt. The winter uniform is more intricate and consists of a DM brand blazer, DM brand khaki pants, a solid-color collared dress shirt, a tie, a belt, and sperrys. 
What uniform do Dematha Catholic High School students like more? What do they think about this upcoming switch in the uniform? Do they feel restricted or held back with this upcoming switch?
Freshman Logan Foust is looking forward to the change. "I think that the uniforms make the students of DeMatha look very professional," Logan said, "and they represent the scholars and gentlemen of DeMatha." Mrs. McNally teaches English 9 and agrees with Logan about the professional look the winter uniform provides, adding that "it prepares [students] to present themselves well in the real world."
Joshua Virgil, a sophomore on the JV football team, doesn't have a strong opinion about the uniform itself, but is worried about the additional time it will take to get ready in the mornings. "The winter uniforms are alright, I guess," Joshua says. "They could be a little less strict, like allow jackets when it's cold and stuff. The main downside is that it's more you gotta worry about now, like in the mornings you have to iron a shirt and make sure you got your blazer. What if I don't have time to iron the shirt? Then in the morning it's just more hectic or time consuming."
Antonio Reddick, a sophomore on track team, says, "Honestly, I don't like it. Wearing a blazer and a tie every day [is] uncomfortable most of the time, and for an athlete like me it's even more stuff to carry after school. It's just a bother and I don't understand the difference. Especially the fact that DeMatha doesn't let us wear any other type of DeMatha gear, even when it's cold." Antonio pointed out that he doesn't think the blazer provides any warmth.
Senior Kai Blackman, appreciates that the winter uniform "allows more personalization," since students can choose the color of their dress shirts and the design of their ties.
Mr. Dickerson, DeMatha's Dean of Students thinks the move to winter uniform is timely. "The weather now is getting colder and those blazers are really warm. That way students won't be cold. Plus the uniform is the traditional DeMatha look that people know us for and students can represent us proudly. They're not just [representing] their team but the school itself."
Mr Dickerson continued, "it's a good look when colleges come and coaches, parents or [Stags-for-a-Day] come to school. I'm also happy for the upperclassmen because now they get to put on the burgundy blazer. They get to showcase that they're an upperclassman now. It'll make a difference in them."
It's safe to say that there are many different opinions and views of the winter uniform, but it's important for everyone to know that the point is to represent DeMatha and to look around and see your brother  wearing the same thing as you.