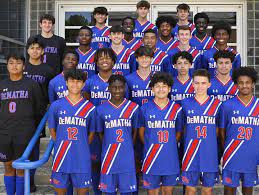 The DeMatha Stags soccer team had a good 2023 regular season. Led by Head Coach Andrew Quinn, the Stags boasted a respectable 9-3-2 record this season after beating Bishop Ireton 5-1 on senior night in their final regular season game.
The team started off this season on the road in Kentucky. They played St. Xavier (OH) and beat them 3-2 with goals from Evan Michel, James Morrow, and Nico Henriquez. Later on the team played South Oldham (KY) to a 3-3 draw.
The soccer team return to the DMV and faced off against DC international and earned a close 1-0 victory. Junior Naim Dominique, a fan of the team, expressed confidence after a strong performance by one of the team's star players. "I think Peter Dignam is a great soccer player and he is going to help them make it to the championship," Naim said.
But after a great start, the team stumbled a little bit and lost two matches in a row. They quickly bounced back with three straight non-conference wins, beating Indian Creek, St. Albans, and Bullis. The Stag played their first WCAC match against a good Heights team and the result was a scoreless 0-0 draw. The very next game the Stags dominated Carroll 7-0 and followed that up by beating Gonzaga 3-1. They then played two of their toughest games, losing 3-4 in a high scoring game to St. John's before suffering a narrow 1-0 loss to Good Counsel.
A 4-1-1 conclusion to the season, including three straight wins against McNamara, Ryken, and Ireton to end the regular season gave the Stags the No. 7 seed entering the WCAC playoffs. Junior Anthony Dunson, knew it would be a tough road, starting with a rematch of their 3-4 regular season loss to St. John's. "We're playing St. John's at their field and we're… just going to lock in."
After playing to a 2-2 tie at the end of regulation, DeMatha's soccer season came to an unfortunate end on penalty kicks. Peter Dignam, a junior, will have another opportunity next season to make Naim Dominique's prediction a reality.