Is a college education needed to be successful in life?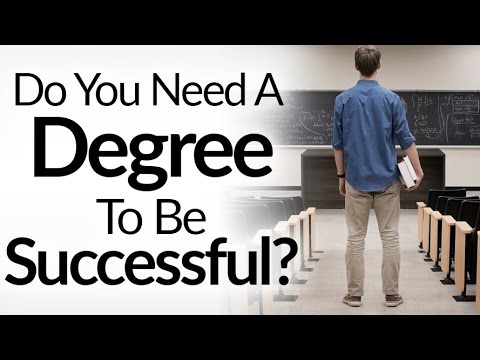 Hang on for a minute...we're trying to find some more stories you might like.
The idea of going to college is stressed by many as absolutely necessary in today's America, and it is suggested that failing to do so will make it difficult to build a future in the real world.
It has been made clear that if a person does not get good grades and attend college, he is set up for a lifetime of failure.
While college is needed more for success than it was in the distant past, it is not required to lead a successful life. The only thing that going to college guarantees to most people is a "lifetime" debt of student loans.
Going to college used to put a person ahead of others in the job industry, usually by securing that person a decent paying job, but this is no longer the case in today's society. Going to college is no longer a sure fire way to get a step ahead of everyone else once in the real world.
Self-learning and first-hand experience is on the rise; many people find that going to college is a waste of time and that earning money in a trade or technology  seems more efficient and beneficial than going to college. In college, people often find that they get the same experience that they could have gotten at home or through self-learning.
Most people go to college as a way to give themselves time to figure out what they want to do with their lives after graduation. If a person chooses to major in something that isn't in high demand in the job industry, he will surely find himself falling behind those who have.
It is also important that if one does choose to go to college that he goes somewhere that is offering scholarships or financial aid as debt and student loans can also drag a person down when it comes to planning for life after graduation. .
Making people feel that they need to go to college to get a decent job is wrong. While this is somewhat true there are some jobs that allow an individual to gain experience so that the person is then qualified to apply for higher paying jobs.
People should not be forced into the college lifestyle if it's not for them. There are many other alternatives to achieving a successful life.