Athlete Profile: Hunter Dickinson
Hunter Dickinson is a 7'1 center who is poised for a breakout season after a productive freshman year of basketball in and out of school. Dickinson is a 5 star recruit in the class of 2020. Throughout high school his size and impressive skill have helped him to rack up a lot of national attention. The big man has started the season well so we decided to get to know him a little more than what we see on the court.
Q: What's your favorite thing about basketball season?
A: My favorite thing about basketball season is the atmosphere of the games. There is nothing better than playing in a packed gym on a Tuesday or Friday night.
Q: What schools do you have offers from?
A: I have offers from Alabama, Notre Dame, Georgia Tech, Wake Forest, Illinois, UVA, Iowa, Penn State, South Carolina, Providence, USC, Maryland and Old Dominion.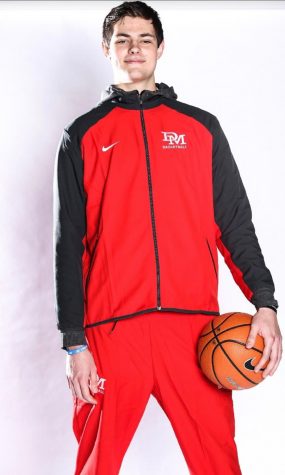 Q: What personal and team goals are you hoping to achieve this year?
A: A team goal I want to achieve is winning the WCAC Championship. That's our main goal but another goal we have is to win the MD Private School Championships. Personally, I want to be First Team All WCAC.
Q: What do you do to get ready for games?
A: First, I always play some crank music to get me hyped while I'm watching the Freshman and JV games. Before the game I try to get a really good stretch in before we go out on the court.
Q: How do you manage school and basketball during the season?
A: It's very hard sometimes. I'll have a game and get home at 10 and not be able to do homework until after I finish showering and eating around 11. I just try to manage my time as best as possible. With the new schedule we have that helps a lot because I have time to be able to complete work during the day.
Q: Do you have any superstitions?
A: My biggest superstition is my shoes… If I play or practice poorly in a pair of shoes I'll never wear them in a game. I also have the superstition that if I play good in a pair of shoes I'll wear them in big games.
Q: Leading up to this season, what have you done to prepare for a big year?
A: To prepare for the season I've really been in the gym working on my game. I've also been working on my body, making sure I can be the best player I can be.
Q: Who is a professional basketball player that you look up to or compare your game to?
A: I definitely look up to Shaq without a doubt.
Hunter has helped the Stags get off to a 3-0 starts with wins over Roosevelt, Oak Ridge and Archbishop Wood. Dickinson had 15 points against Roosevelt, 12 points against Oak Ridge, 18 against Archbishop Wood and 12 against Archbishop Carroll. With these four big wins, the Stags are putting themselves in good position to build a lot of confidence heading into their midseason games.