The BSU increases membership and plans a variety of new activities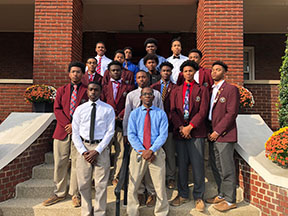 The Black Student Union has continued to grow in size as they start another school year. The group has made an effort to increase recruitment and participation all over the school. The group has made it a priority to do a considerable amount of work in community service project activities in the upcoming school year.
The group meets once a week and is looking to increase the amount of times they meet during the week. There is a $15 membership fee and there's a $50 for an official BSU shirt. The group has 20 members and is quickly growing. They are led my Mr. Ayala and their president Austin Williams has some great ideas on how the group can grow in the upcoming year.
"We're looking to do some larger fundraisers and some unique community service projects this year." said Williams. "A lot of the ideas we have require some planning so we're going to meeting a lot more." The group hosted a car wash on homecoming weekend in which they raised almost four hundred dollars.
For those wondering what the club actually stands for, you don't have to be black to join. "We're all about accountability, respect, and service. As long as you're hard working and looking to work for a just cause, you're welcome to join," said Williams. The meetings consist of a lot of team-building activities in which they propose ideas about ways to overall grow their membership. They also have a lot of discussions in which they discuss current events and work to spread awareness of issues in the African American community.
Last year to group went out to see the movie Black Panther and they had a cookout after school. As the group grows they've continue to produce a wonderful opportunity for African Americans at DeMatha. "We're all about being inclusive and working towards equality and being informed on issues", said senior and BSU Secretary Andre Clarke.