The Bubblemonger comes to Hyattsville
When Theology and Ethics teacher Mr. Homer Twigg IV isn't in the classroom, he's working on a new business venture: Bubblemonger, LLC. He has mastered the art of creating whale-sized bubbles using a secret bubble recipe and some magic wands. He performs at galas, honorary dinners, fundraisers and grand openings; public and private school events such as science fairs, festivals and dances; farmers markets; nursing homes, especially with regard to physical therapy; weddings, birthday parties, bar/bat mitzvahs and even funerals.
The Bubblemonger charges about $100/hour, depending on the event, and also sells bubblemongering kits for $35.
Mr. Twigg was inspired to be the Bubblemonger by a street performed he saw at the Porta Portese (an open-air market in Rome) in 2011. "I saw this guy making huge bubbles and people were just throwing money at him. Afterwards, I got the idea to make big bubbles for money." He launched the business not just for financial profits, but to bring joy to his family. "I am always looking for the coolest dad award. About three years after my first was born, I wanted to do something outdoors a cool dad would do. So I got into making bubbles." He found an online community of bubble enthusiasts and watched YouTube videos to improve his bubblemongering skills for his family.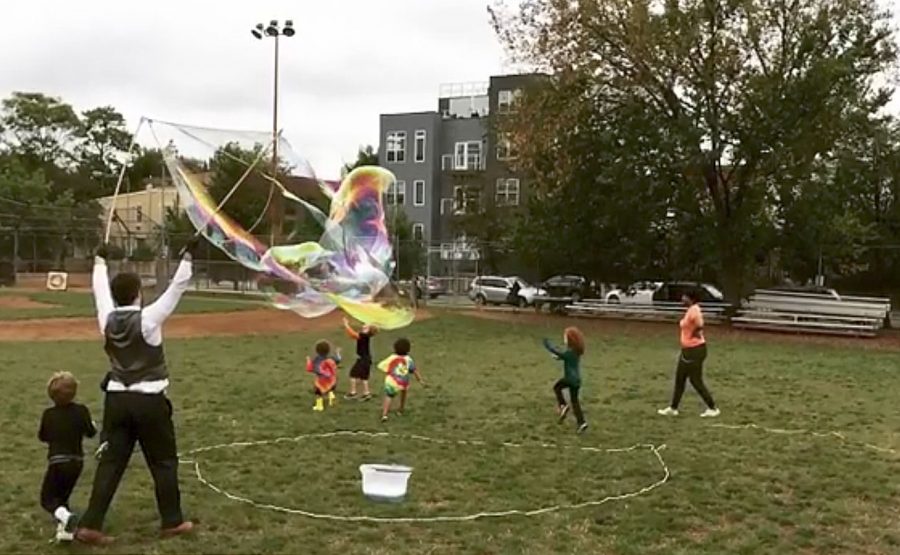 Earlier this fall, he went to the MOTH (Mother's on The Hill) outdoor festival to perform. Even though it was his first commercial event, he scored two more gigs. He continues to perform at other locations, such as the Robert J. King memorial park, Magruder Park, and NoMa.
Not only does it require the perfect solution and materials, but also a solid performance. "The presentation is the most important part. Enthusiasm and excitement are crucial." For the performance, Mr. Twigg prepares by putting on a black suit, white shirt, and solid black tie. "I try to channel a style mix of the Blues Brothers and Agent Cooper from Twin Peaks. Rebellious at heart but morally straight in action."
Perhaps the central reason he got into bubblemongering is because of the way kids react. "They lose their minds. Kids see a bubble stretching 40 feet and they think it's the best thing in the world." The bubbles last as little as ten seconds (or when a child punctures one), or so long that they float away into the sky like an untethered balloon. Despite the relatively short lifespan of the bubble, the kids stay amazed. "Its one of the few things in the world today that trumps tech in the mind of a child."
His long-term plan for The Bubblemonger, LLC, is to incorporate DeMatha by employing students as Bubblemonger apprentices who will perform in his stead. "I'd like to make apprentices out of DeMatha students, while I handle the contracts and limit my own bubblemongering to a recreational activity." When he founded Bubblemonger, LLC, he made his wife Jocelyn Twigg the CEO and himself only an employee. Soon, he'd like to add to that number of employees.
Videos of the Bubblemonger can be found at bubblemonger.com or on social media by searching for the hashtag #bubblemonger.