Teacher Profile: Mike Ptomey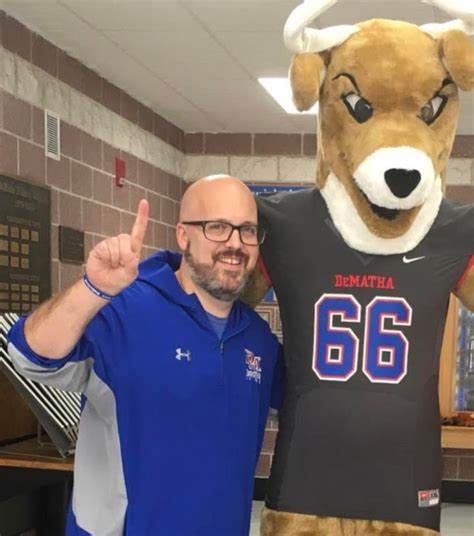 Those who have taken senior theology at DeMatha are most likely familiar with Mr. Ptomey, head of the theology department and teacher at DeMatha for 16 years.
Mr. Ptomey was not always certain that he would become a teacher or return to work at DeMatha after he graduated. Coming out of college, Mr. Ptomey was unsure of what career path he wanted to take, as he had interest in politics but also was interested in being a pastor at a protestant church, since at the time he was, in fact, protestant.
After attending the University of Arizona, Mr. Ptomey returned to Maryland where he got married at age 25. "I got married and needed a job, so I interviewed with a non-profit and that's the direction that I thought I was going to go in," Mr. Ptomey said.
But along with the interview with the non-profit, Mr. Ptomey also contacted DeMatha's principal, Dr. Daniel McMahon, informing him that he was interested in getting a job with the school. Mr. Ptomey admitted that he "basically applied for the job at DeMatha as a backup option, and I honestly did not even expect Dr. McMahon to email me back."
But much to Mr. Ptomey's surprise, Dr. McMahon not only emailed him back immediately, but also hired him just one day after his interview. "It's crazy to think about where I am now considering that I really just applied for this job at DeMatha as a backup plan in case other things did not work out."
After several years of teaching English and government at DeMatha, Mr. Ptomey decided to take a sabbatical to southern California in 2010. Mr. Ptomey says it was always a dream of his to live in southern California, but after a year out west he knew that he was better off back in Hyattsville working at DeMatha.
Mr. Ptomey likes to point out how crazy it is that a decade ago he was not even Catholic, and now he is the chair for the theology department at DeMatha. Mr. Ptomey became Catholic around eight years ago, and he has quickly become familiar with Catholic values and traditions. "God works in mysterious ways, and he always has a plan for us," Mr. Ptomey says.
Those who have been fortunate enough to have Mr. Ptomey for senior theology know how much he enjoys his job, a job that he calls "unique."
Mr. Ptomey says his job is unique in the sense that, even though he is a high school teacher, he feels like he has the freedom to teach his students not only about theology, but also give them valuable life lessons and discuss important topics going on in the world that most teachers would avoid talking about. A lot of teachers are almost forced to "go by the book" and have to refrain from giving their personal insights on issues in the real world, or they refuse to discuss events that happened in their own life that helped them grow.
But that is not Mr. Ptomey. He is not someone that "goes by the book" or follows a strict curriculum in his teaching. He's honest with both himself and his students, and he's not afraid to say that the life lessons and people skills taught in his class are much more important than students' actual grades.
Already having worked at DeMatha for 16 years, you get the sense that Mr. Ptomey has no plans of leaving in the near future. "My wife and I are really happy with our current situation, and even though I like it out west, I don't imagine us moving any time soon."
When students look back at their time at DeMatha, it will be teachers like Mr. Ptomey that have made their time at the school so memorable. Teachers who not only want their students to succeed, but also want them to remember the priceless lessons about life, are the reason why students can look back fondly on their days of high school.
Mr. Ptomey's story can be a lesson for those unsure of their future career paths. Sometimes God leads you in directions that you never thought you would go, but in the end you realize that God had a plan all along and you come to enjoy your adventure or your job. And when it comes to Mr. Ptomey, you get the idea that nobody enjoys what they do more than him.