The Trinitarian Tradition at DeMatha.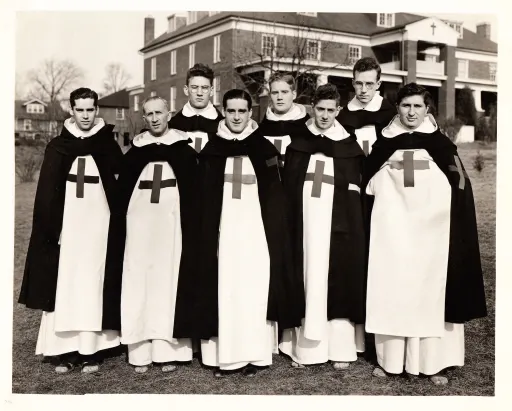 DeMatha Catholic High School has the honor of being the only Catholic high school in the United States that associates itself with the religious group known as the Trinitarians. The school has established a strong bond with the Trinitarian tradition and looks to keep that tradition alive in the classroom today.
The order of the Trinitarians, officially named the Order of the Most Holy Trinity and of the Captives, was founded by DeMatha's namesake, St. John de Matha, after he received a vision of Christ with two slaves standing on either side of him in 1193. Pope Innocent III granted the order and its rule approval with his letter "Operante divine dispositionis clementia," issued on December 17, 1198.
The original purpose of the founding of the Trinitarian order was to ransom captive slaves using a network of houses. St. Felix of Valois, co-founder of the order, accompanied de Matha in Cerfroid, France, located near Paris. In Cerfroid, the first Trinitarian community was established and is considered the motherhouse of the entire order. The Trinitarian ministry included hospitality, care of the sick and poor, churches to hold mass, and schoolhouses to provide education. Eventually, the Trinitarians also assumed the work of evangelization.
On September 9, 1946, DeMatha Catholic opened its doors for the first time with an enrollment of 18 students. The primary focus of the school was to "educate and prepare those interested in becoming clergy for the trinitarian order." Due to the lack of Catholic schools in the Hyattsville area,, Catholic parents inquired about the admittance of their sons into DeMatha. Following their tradition of service to the community and to the Archdiocese, they began accepting a limited number of lay students, increasing the student body to over 80 students by the fall of 1947.
Dr. McMahon, principal of DeMatha Catholic High School, spoke about the Trinitarian tradition. "The things the Trinitarians give us as our mission are: 1) build relationships, since they see God as a Trinity which means that God is in relationship–and through Jesus, God is in relationship with humans; 2) the Trinitarians must work for freedom of captives. We are captives of ignorance, prejudice, materialism, etc.; 3) the Trinitarians must work for justice, to commit acts not only of charity but of justice; 4) the Trinitarians vow "humility" to seek no status. That is why they call each other "brother" and why we call them by their first names, and so we as a school pursue all excellence with humility."
DeMatha has many ways in which it looks to keep the trinitarian tradition alive in the classrooms today. "When we think about the Trinitarian tradition, we refer to it as the Trinitarian 'charism' or 'spirit,' that is active and the guiding force in what the Trinitarians do and who we are," says Fr. Albert, the Director of Trinitarian Mission at DeMatha. "This charism is rooted in the Gospel of Jesus Christ and his message of love and redemption. For Jesus, these words were not merely static words. When he spoke of love and redemption, he emphasized the need to put these words into practice. And, this is precisely what St. John de Matha saw what needed to be done at a time of great uncertainty and difficulty in the world."
Fr. Albert continued, "Today, DeMatha strives to instill in the school community these two aspects of the Trinitarian charism in a variety of ways. First, and foremost, we pray every day as a school community and perhaps individual classes may begin with a prayer. We celebrate school-wide Masses and, especially on the Feast of St John de Matha in December, we focus on our school's patron and the spirit he has handed down to us."
He further stated that "by means of various reminders throughout the year, we try to make the school community aware of the plight of Christians who are persecuted for their faith in Christ, which is central to our Trinitarian works and charism today. We have been actively engaged in assisting Christian communities who have suffered from horrible acts of persecution, especially in the Middle East, as well as in other parts of the world."
Fr. Albert finished by saying, "Of course, the Christian service projects that students engage in are another means by which DeMatha continues the spirit of St. John de Matha, which is the mission of Jesus: 'Whatever you did for one of the least of these brothers of mine, you did for me.'"
 Another way that DeMatha looks to keep the Trinitarian tradition alive is through Christian service. Fr. Josh, who works in DeMatha's Campus Ministry Office, says, "First and foremost our Christian Service requirements find its origin in the message of Jesus Christ. In Matthew's Gospel, Jesus says, 'I was hungry, and you gave me nothing to eat; I was thirsty, and you gave me nothing to drink; I was a stranger, and you did not invite me in; naked, and you did not clothe me; sick and in prison, and you did not visit me….Truly I say to you, to the extent that you did not do it for one of the least of these, you did not do it for me, either.'"
"Christ has commanded all of the baptized to look after the poor and marginalized in our society," Fr. Josh continued. "From this sacred command, St. John de Matha responded to God's call to ransom all those held captive for their faith. These enslaved Christians had been forgotten by society and St. John de Matha, through the inspiration from the Holy Spirit, founded an order dedicated to setting the captives free."
He finished by stating, "So, in a way, our Christian service requirement does stem from the Trinitarian charism of letting up the lowly and setting the captive free through acts of mercy and redemption. But it also comes from the Gospel itself. In following the greatest commandment of Jesus, "to love God above all else, and to love your neighbor as yourself," DeMatha Stags are asked to perform Christian service for those who have been forgotten by society; those who live on the margins."
The  Trinitarian tradition remain strongly rooted in DeMatha, and through this tradition DeMatha students and faculty look to continue the Trinitarian mission to become "men of action and prayer."