DeMatha study abroad in Perú
The past summer of 2017, Spanish teacher Ms. Karl led 20 DeMatha students on the fourth study abroad program to Perú. This three-week journey was a life-changing experience as the students participated in day-to-day life in Perú practicing Spanish, learning the culture, and helping the local community through service. Not only did they receive a total of 120 hours of instruction, which is more than in a regular school year, but they were educated on the lifestyle and history of the country.
The students stayed in Cusco with host families during their time in South America. Spanish was the only form of verbal communication with the locals, benefiting the students' comprehension of the language. In fact, each student had a challenge to complete in which Spanish was spoken to achieve the task. Senior Deaglan McGuire's challenge was to purchase chuta bread from the local market. They also volunteered at the local orphanages, which earned them 20 community service hours. When asked about his experience helping the children, junior Jermaine Johnson said he was "changing lives."
The students visited many famous locations in Perú including Cristo Blanco, Machu Picchu, and the Sacred Valley. The tour guide gave the history and significance behind the monuments; the students would later be tested on the information learned. Junior Devin Doiran's favorite moment was visiting Machu Picchu, a historic mountain sanctuary belonging to the Inca Empire.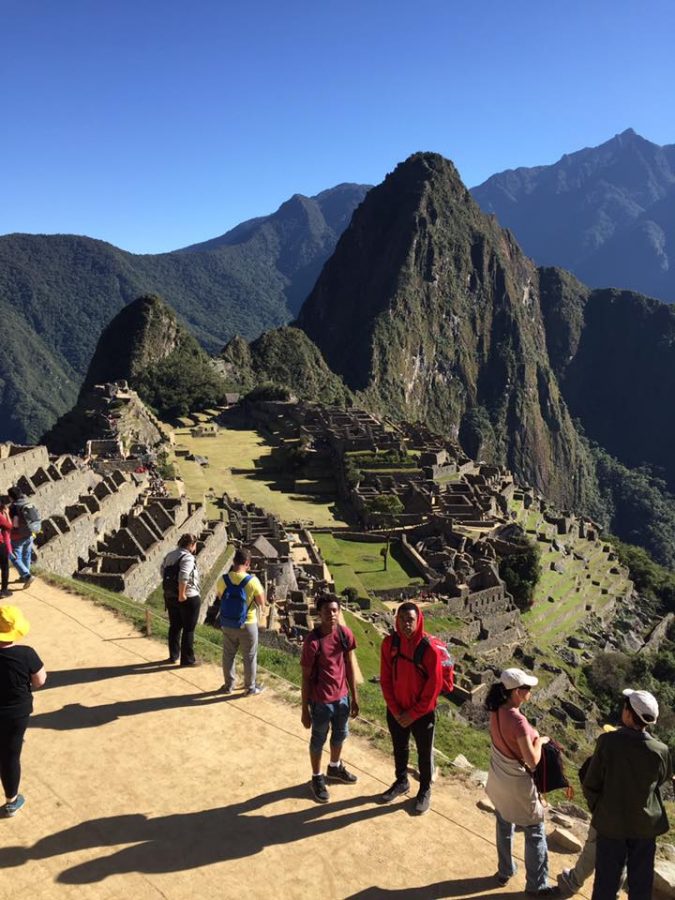 Playing soccer, dancing, and riding horses with the locals was very enjoyable. Senior Joey Magnino even exchanged Snapchats with one of the Peruvian dancers. Even though the students were utterly destroyed in soccer, they still enjoyed their time. Junior Timur Murillo's favorite moment was going horseback riding. "I remember we were all prepared to ride the horses when a student set off his horse, which made his and everyone else's horse start running very fast. It was so fun."
After experiencing the three weeks in Perú, most if not all the students felt studying abroad was better. When asked about which was better: studying abroad for three weeks or a full-year course at DeMatha, Ms. Karl said, "Hands down, the study abroad program is better because they learn more through experiential learning than classroom learning. Plus, they always keep their wonderful memories made in Perú." Doiran also commented, "It was better because we had so much exposure to Spanish all the time that there wasn't really a need for studying a year in the classroom. The experience also helped me form better friendships with the DeMatha students on the trip."
Murillo also commented, "It was a win-win because you can complete a year's worth of education in three weeks. We had a four hour long class in the morning and another four hours of activities in the afternoon. Also, it helped me become more independent because I took care of myself during the trip. Honestly, I still think of my time in Perú."